Facial Aesthetics
Professional non-surgical cosmetic treatments.
Emergency Dentist Leeds
Top Quality Private Dental Practice at a price you can afford.
Professional Private Dental Clinic in Leeds at The Tooth Spa, we offer a full range of general, cosmetic dentistry, Dental Hygienist, Dental Implants, out of hours and emergency dental care, clear braces and home visits for housebound patients in the surrounding area.
We have evening and weekend appointments, also cover Bank Holiday weekends for dental emergencies.
Disabled access and facilities are available on the ground floor of our premises.
Dental hygiene is an area where everyone is looking for the best services in every sense of the word and that is exactly what The Tooth Spa aims to deliver. We can provide you with direct access to a dental hygienist/therapist without the need to see a dentist beforehand. So for all your dental hygiene and restoration needs in Leeds, come and join our friendly and affordable team at the Tooth Spa.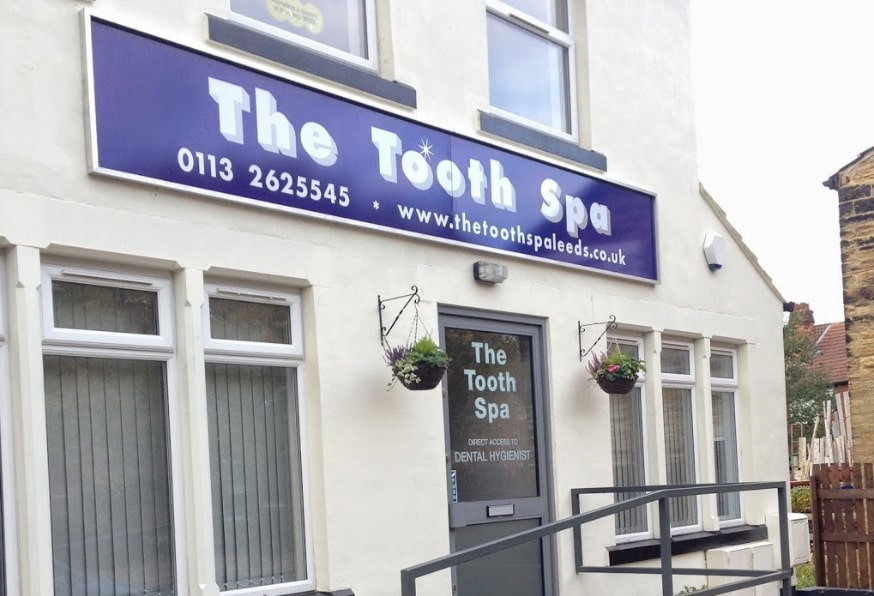 Opening Times
Mon – Fri 9.00 – 20.00
Sat – Sun – 9.00 – 16.00
Flexible Appointments Available
Including Evenings and Weekends
Home Visits
Domiciliary dental care is dental treatment that is provided in the patient's home. Dental treatment is most easily provided in a dental surgery where all the equipment and materials are to hand and it is in the patient's best interest to have dental treatment in the surgery, wherever possible.
I called the surgery for weekend emergency care. Even though I wasn't registered there and they had a full schedule they slotted me in the same day. The treatment I received was prompt, efficient and thorough with aftercare available if required. The staff were lovely and obviously experienced. I used to be a nervous patient and I think the calm atmosphere at the practice would help anyone who is.
Lesley Aird
09:06 22 Oct 17
I had the pleasure of meeting Julie and Jack last week - immediately felt at ease as they are both so lovely and I left with sparkling teeth! Really couldn't have asked for more, thank you both
Megan Chalk
12:04 27 Dec 17
Just visited the tooth spa, had a wonderful experience found the staff to be very helpful an pleasant, Can't fault them great team great set up. (Michaela)
jordan sayner
11:54 11 Nov 17
I went this Monday to get a scale and polish, as my current NHS dentist appointment is 10 minutes and the clean is very quick and my teeth were still stained from coffee and red wine. I paid for a scale and polish and spent a good 20 - 30 minutes with the dental nurse. I was really pleased with the outcome, my teeth look really good and clean and got some good advice on looking after my gums. That is the 3rd time i have been and have always had my appointment on time and never kept waiting and staff are all friendly and always pleased with the outcome.
1979JBean
21:04 28 Oct 14
Lovely and friendly staff
Preet Matharu
14:01 28 Feb 17
Needed an emergency dentist as was in so much pain but was told I couldn't be fit in by the other emergency dentists on google. However called the tooth spa, I was in within the same day and felt almost instant relief. You pay for the quality of the service that you get, and the service given is the best in Leeds. Thank you so much
Both Julie and Jack were friendly and professional. I was completely at ease during my appointment and I am happy with the results - my teeth look and feel so much better.
Jackie Humphries
17:43 07 Nov 18
Amazing service always there when needed! Very friendly and kind hearted.. always thinking about patients first.. would definitely recommend! x
khadijah Kauser
19:47 29 Nov 18
Highly recommended dentist. My wife suffered over the weekend with toothache and, sadly, the NHS 111 phone line was little use. We searched across Doncaster, Barnsley, Rotherham, Sheffield and Wakefield and couldn't find a dentist open on a Sunday or an emergency dentist! More by luck we found the Tooth Spa 40 miles away and they were fantastic. Helpful, friendly and very kind. All dentists should be like this.
Neil Stenton
17:45 30 Dec 18
Office
47 Potternewton Lane, Chapel Allerton, Leeds, LS7 3LW
E-mail
thetoothspa@outlook.com
Phone
0113 2625545
07719 834576
Opening hours
Mon – Fri 9.00 – 20.00
Sat – Sun 9.00 – 16.00